On your personal Affiliate page, you will be able to find the statistics of following the links with your Referral ID as well as track the profit that accumulates from each order made by the user on Gambody marketplace thanks to your recommendation.
The affiliate earnings are paid in real money and the payouts to Affiliates on Gambody are generally made once the accumulated sum reaches at least $50.
But taking into account the fact that Affiliate is a long-term program, there is an opportunity for you to convert any sum you've gathered into credits to be added to your Gambody account's balance. These credits you will be able to use when placing orders for your future 3D printing designs on Gambody by choosing the 'use my balance' option on the Checkout page: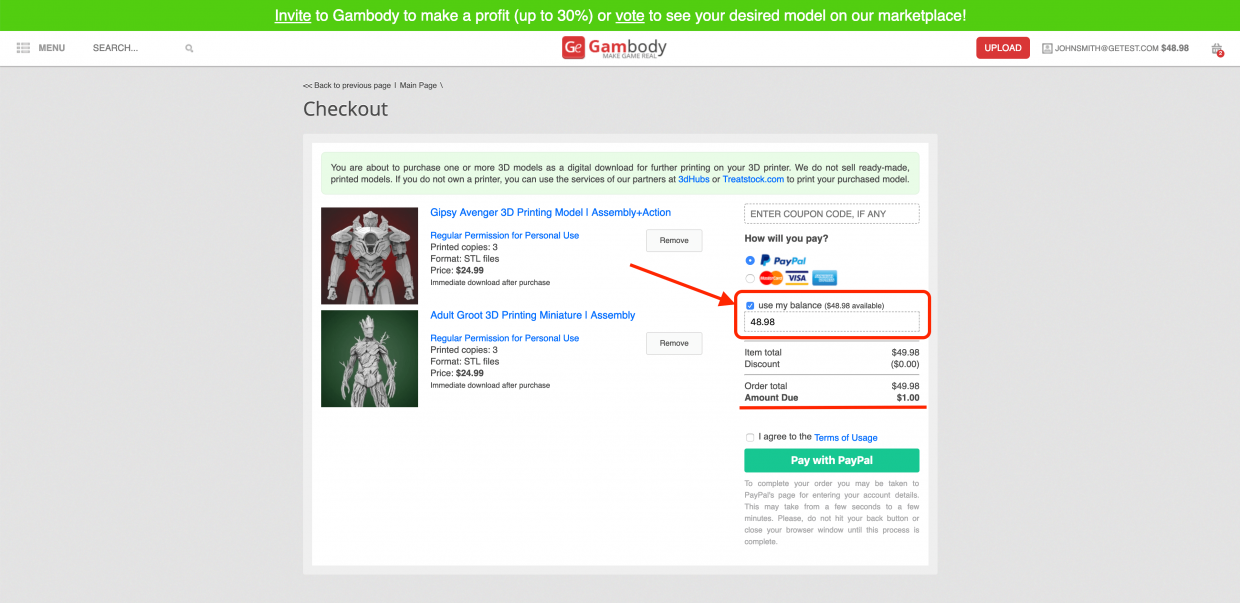 If you happen to prefer this option then, please, reach out to us at support@gambody.com and we will convert the earnings into credits at once, or you can wait until the needed sum is accumulated to receive the payout in real money either by issuing an invoice or sending a request via PayPal system.
According to Terms and Conditions on the marketplace, all payouts are made on the 15th of the following month (except when the 15th falls on a weekend or public holiday, in which case it is issued on the next business day) to all Affiliates who before this date have issued invoices or sent requests via the PayPal system.
Please, use the following details to issue an invoice or send us a request via PayPal:
paypal@desartlab.com
DESART LAB LLP
WINNINGTON HOUSE, 2 WOODBERRY GROVE, NORTH FINCHLEY
LONDON
N12 0DR
United Kingdom
N.B. When requesting a payout, please, make sure to add a note or description indicating the sum being "Affiliate Earnings".
If you happen to have any questions or need assistance, please contact our Support Department at support@gambody.com.